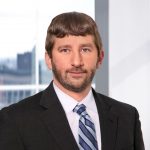 Attorney James Wood successfully obtained summary judgment in favor of a snow plow contractor in a case where a tenant of an apartment building claimed that she had slipped and fallen due to the snow plow contractor's failure to treat ice on her exterior stairs.
The subject incident arose when the tenant left her second floor apartment in the early morning via an exterior stairway that serviced only her unit.  The tenant alleged that she slipped and fell on black ice, falling down the stairs and suffering a fractured back, and other injuries.  The plaintiff brought a claim for negligence against the snow plow contractor, alleging that the snow plow contractor should have treated the stairway for ice.  The snow plow contractor testified that he did not agree with the landlord to treat the subject stairway – he only had an agreement to plow the parking lot and shovel a path to the mailboxes.  The lease between the tenant and landlord explicitly stated that the responsibility for snow and ice removal of the subject stairway was the tenant's.    
Attorney Wood pursued support for the proposition that the snow plow contractor owed no duty to the plaintiff with regard to the subject staircase.  Attorney Wood filed a motion for summary judgment, arguing that the lease explicitly provided that the plaintiff was responsible for clearing her stairs of ice and snow, and there was no evidence that the snow plow contractor had assumed said duty.  The plaintiff opposed the motion, arguing that she had a photograph of someone shoveling the back stairs which could have been the snow plow contractor.  Further, the plaintiff testified to several discussions she had with the snow plow contractor and landlord, which she asserted contained promises by them to treat the stairway for ice and snow. 
The court agreed that the plaintiff had taken on the duty to keep the exterior stairs free of snow and ice pursuant to the lease between the plaintiff and her landlord.  Furthermore, the court held that there was insufficient evidence, as a matter of law, that the photograph or discussions contained any evidence that the snow plow contractor had assumed the duty of clearing the stairs of ice.  Therefore, as a matter of law, the court held that the plaintiff could not prevail on her negligence claim. 
The plaintiff filed a motion for reconsideration, which was denied.